NEW YORK – A major rainstorm that hit the New York City region Friday afternoon caused flash flooding that turned roads into rivers and stifled some transit services.
The flooding was widespread and so quick that it caught some drivers off-guard and some had to be rescued.
On Staten Island, an Eyewitness News viewer captured a completely washed out Bay Street near Greenfield Avenue:
Heavy #rain causing #flash flooding in #statenisland on Bay Street. #NYCwx #NYwx @spann @Morecast_USA @JaniceHuff4ny @ABC7NY #flooding pic.twitter.com/eKZgoGqSFZ

— Jebweather (@Jebweather) May 5, 2017
The driver, in the Clifton section, showed an extremely dangerous situation unfolding as vehicles were attempting to make their way through the tire-deep water.
All of 9th St under water. Yikes. #flooding #hoboken pic.twitter.com/eVn2FjXWqo

— Emily J (@HobokenEmily) May 5, 2017
TRANSIT INFORMATION
PATH
* PATH service on the JSQ-33 & HOB-33 line remains suspended because of flooding and power issues at Christopher Street. NJ Transit Rail & Buses will cross honor at Newark, NY Penn and Hoboken. PATH has added trains to the Hoboken and Newark lines to WTC to help move riders.
N AND W TRAINS
* N and W service is restored with extensive residual delays. Two things impacted these lines. First, it was a burning insulator on one of the rails at the Lexington Ave/59th Street station. Then, there was flooding south of the station because of the rain.
R TRAINS
* R train service resumed with extensive delays
AIRPORTS DELAYS
LaGuardia – 4 hours
JFK – 6 hours
Newark – 3 hours
The West Side Highway in Manhattan was closed in both directions between West 24th and 34th streets due to flooding for at least it hour. It opened up again just before 4:30 p.m.
Due to flooding,all lanes of West Side Highway are closed in both directions between W 24 St & West 34 Street (MN).Consider alternate routes

— NYCEM – Notify NYC (@NotifyNYC) May 5, 2017
In Westchester County, the Bronx River Parkway was closed in both directions between Sprain Split to Scarsdale Road, and also between Main and Fenimore Road.
The FDR Drive in Manhattan also experienced some flooding: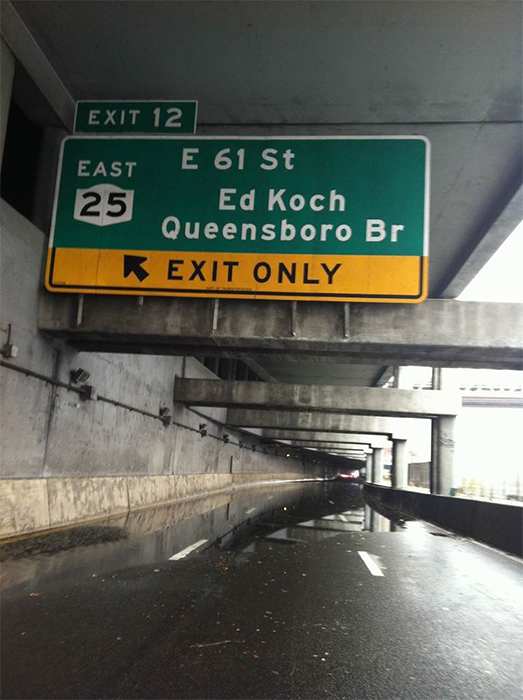 People became trapped in their vehicles and had to be rescued on Center Street south of Montgomery Street, right under the New Jersey Turnpike.
There were at least three vehicles affected. There are no reports of injuries.
The main entrance at 32nd and 7th at Penn Station was closed, as well as stairway only at the 31st and 7th due to flooding. Customers were being advised to use the escalator and elevator at 31st and 7th or 8th Ave entrances at 31st and 33rd, and 7th at 34th St.
Also, it turns out Hoboken's new pumps couldn't keep up with the severity of this storm. Check out the intersection of 9th and Madison streets: