Dramatic surveillance video shows an NYPD officer being dragged down the street by a stolen car in Brooklyn over the weekend.
Eyewitness News obtained the video, which can be seen in the video player below.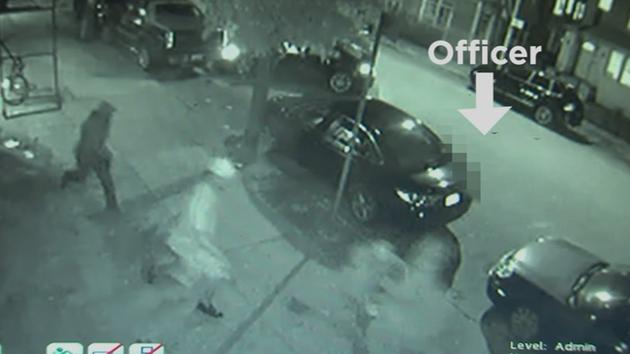 The incident happened just after midnight Sunday morning on East 53rd Street near Tilden Avenue in the East Flatbush section.
Officers responded to a call of gunshots — and discovered the noise was coming from fireworks. But while officers were questioning a 15-year-old with regard to the incident, the driver took off.
Officer Dalsh Veve, 35, was dragged along with the speeding vehicle for about 2 1/2 blocks. The officer is eventually freed from the car, moments before it crashes.
The video shows the driver get out of the car to run, but he goes back to grab an item – not even stopping to check on the officer.
Moments later, plain clothes officers run up to help Officer Veve. They realize he's in need of immediate help, so they loaded him into an unmarked police car.
Police said the black Honda Civic that the suspect was driving was stolen from a person delivering a pizza in Valley Stream on Long Island May 16.
Veve remains in critical condition at Kings County Hospital, where he underwent surgery Sunday.
He is married and has a 2-year-old daughter. He has nine years on the police force.
The suspect, who is expected to be charged with attempted murder of a police officer and first degree assault, has 11 previous arrests, most recently for grand larceny on May 16. He was charged with stealing a car in April, burglary in 2016 and three separate robberies in 2015.